St. Luke's College of Medicine to tackle "The Future of Health Promotion"
| August 14, 2021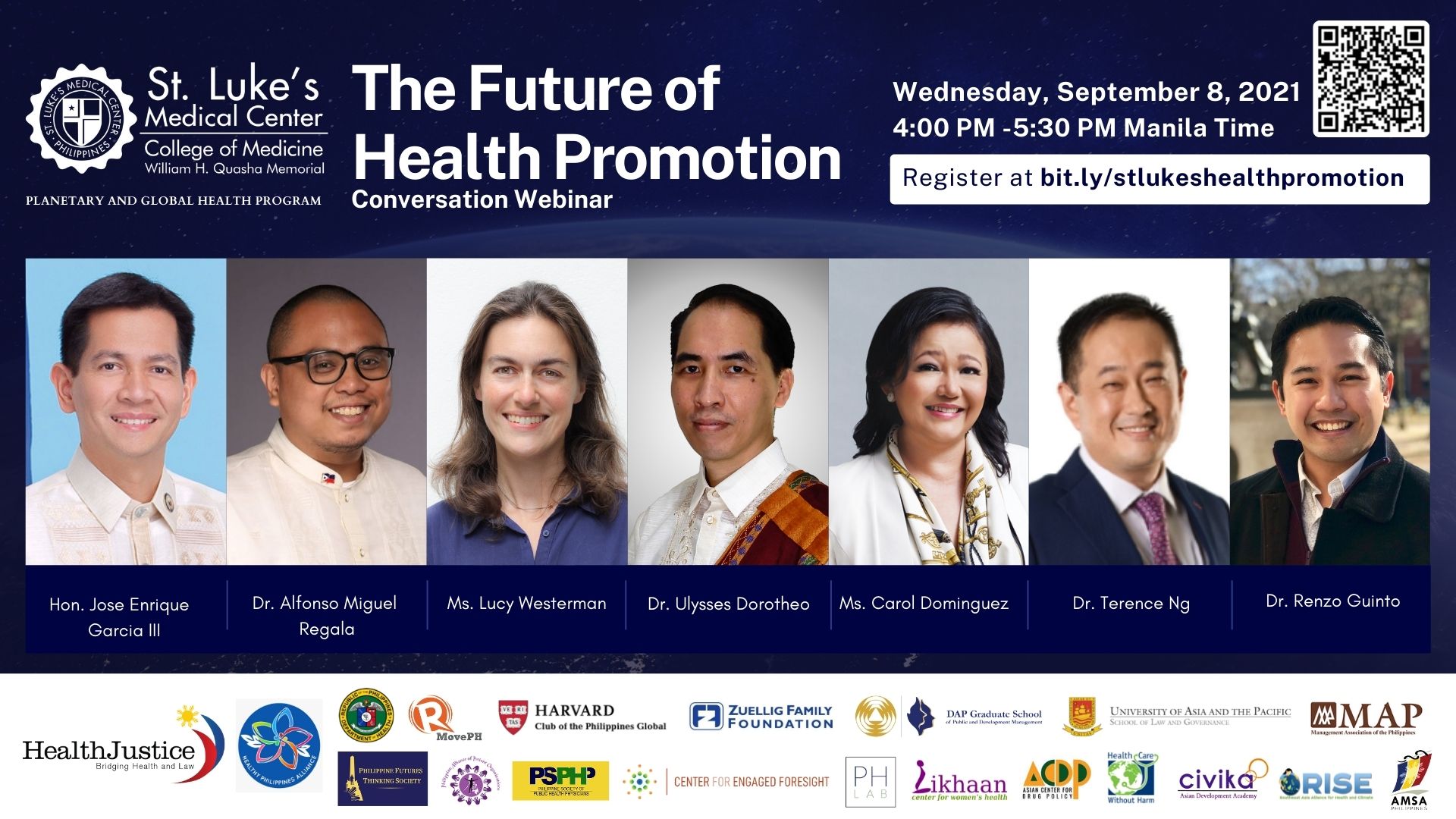 As part of its newly-launched "The Future of Health" conversation series, the St. Luke's Medical Center College of Medicine-William H. Quasha Memorial, through its new Planetary and Global Health Program, will be holding the eighth episode entitled "The Future of Health Promotion" on September 8, 2021, Wednesday, 4:00-5:30 pm Manila time.
Health promotion is one of the neglected functions of public health, yet one that has the highest chance of improving the health of populations on a grand scale. It is about enabling people to increase control over their own health and tackling a wide range of social and environmental determinants that shape the health of communities and nations. The Universal Health Care Act of 2019 gave health promotion a much-needed boost; meanwhile, the COVID-19 pandemic further reinforced its importance, as successful control of coronavirus spread greatly lies on heightened health literacy and favorable societal conditions for disease prevention and health equity. As the health of people continues to be threatened by myriad factors rooted in society and the environment, for instance as shown in the rapid rise in noncommunicable diseases and mental health conditions, there is an urgent need to energize the health promotion movement in the country and the world.
This new series, which adopts an innovative conversation format, convenes health leaders from the Philippines and abroad to not only examine the current health situation but also envision the future of health in the post-coronavirus era, with the hope of advancing health policy discourse in the Philippines and globally through a futures-oriented discussion.
For this webinar, leaders from health and other sectors will share their diagnosis as well as their prognosis of issues around health promotion policy and practice in the country and across the world. Panelists include:
Hon. Jose Enrique "Joet" S. Garcia III, Representative, 2nd District of Bataan
Dr. Alfonso Miguel Regala, Chief, Program Implementation and Outreach Division, Health Promotion Bureau, Department of Health
Ms. Lucy Westerman, Policy and Campaign Manager, NCD Alliance
Dr. Ulysses Dorotheo, Executive Director, Southeast Asia Tobacco Control Alliance
Ms. Carol Dominguez, Co-President, Harvard Club of the Philippines Global and President and CEO, John Clements Consultants, Inc.
Dr. Terence Ng, Director, Innovation Office and the Policy and Strategy Division, Health Promotion Board, Singapore
The conversation will be moderated by Dr. Renzo Guinto, Associate Professor of the Practice of Global Public Health and Inaugural Director of the Planetary and Global Health Program of the St. Luke's Medical Center College of Medicine-William H. Quasha Memorial.
The event is open to the public. Register at https://bit.ly/stlukeshealthpromotion.
This episode is mainly co-presented with Health Justice and Healthy Philippines Alliance. The webinar series is also co-presented by the following organizations: Department of Health; Rappler; Harvard Club of the Philippines; Zuellig Family Foundation; University of Asia and the Pacific School of Law and Governance; Development Academy of the Philippines Graduate School of Public and Development Management; Management Association of the Philippines; Philippine Futures Thinking Society; Philippine Society for Public Health Physicians; Philippine Alliance of Patient Organizations; Center for Engaged Foresight; PH Lab; Likhaan Center for Women's Health Inc.; Asian Center for Drug Policy; Health Care Without Harm; Civika Asian Development Academy; Southeast Asia Climate and Health Alliance; and Asian Medical Students Association-Philippines.