Dr. Renzo Guinto appointed as member of the NTPE on advancing and translating climate science in the country
| October 13, 2021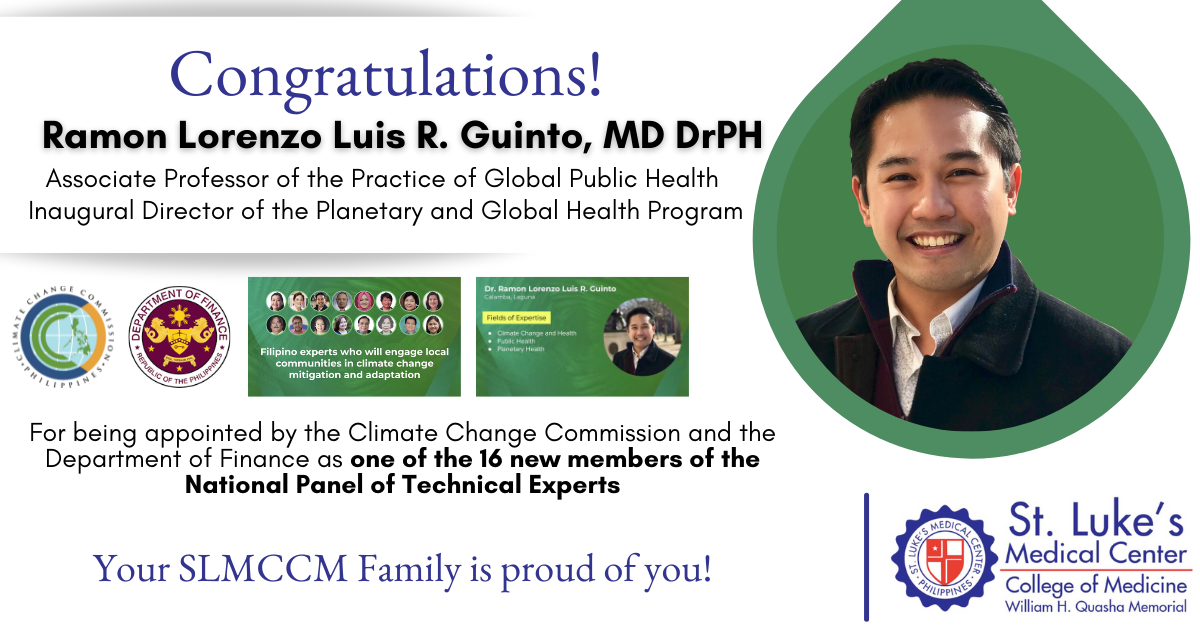 The Climate Change Commission and the Department of Finance have appointed Dr. Renzo Guinto as one of the 16 new members of the National Panel of Technical Experts (NPTE) that will advise the Philippine government on advancing and translating climate science in the country. He remarked, "The St. Luke's Medical Center College of Medicine is beginning to train a new generation of doctors who care not just for the people, but also for the planet."
Dr. Guinto is the Associate Professor of the Practice of Global Public Health and Inaugural Director of the Planetary and Global Health Program of the St. Luke's Medical Center College of Medicine. An Obama Foundation Asia-Pacific Leader and Climate Reality Leader, he is a member of several international groups including: Forum on Climate Change and Health of the World Innovation Summit for Health; Climate Resilient and Sustainable Health Systems Thematic Working Group of Health Systems Global; and the Journal of Climate Change and Health.
He obtained his Doctor of Public Health from Harvard University and Doctor of Medicine from the University of the Philippines Manila. In 2020, he was included by Tatler Magazine in its Gen.T List of 400 leaders of tomorrow who are shaping Asia's future.
Congratulations Dr. Guinto, our very own Climate Hero, from your SLMCCM family!