St. Luke's Medical Center College of Medicine to tackle "The Future of Universal Health Care"
| November 22, 2021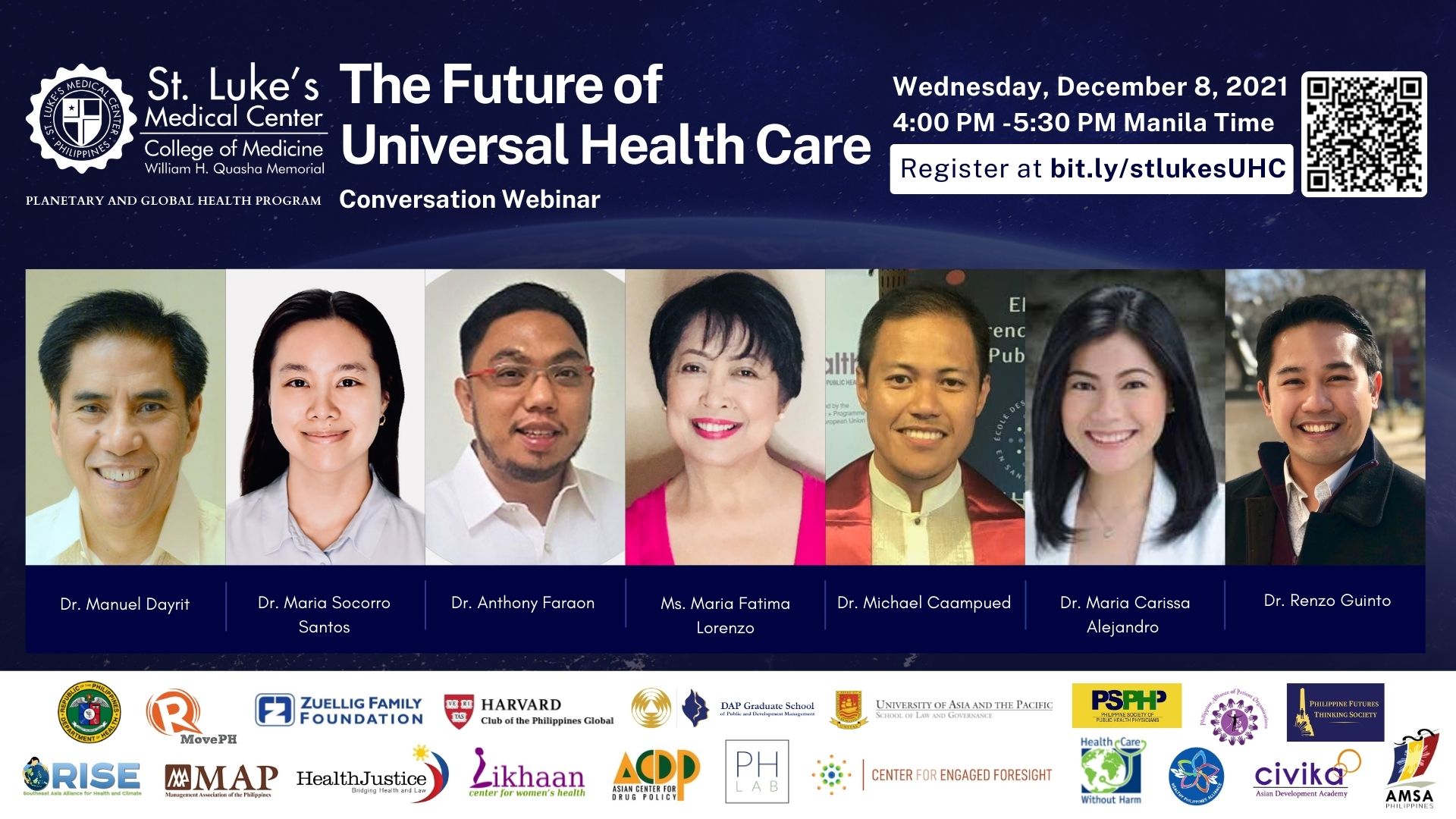 As part of its "The Future of Health" conversation series, the St. Luke's Medical Center College of Medicine-William H. Quasha Memorial, through its new Planetary and Global Health Program, will be holding the eleventh episode entitled "The Future of Universal Health Care" on December 8, 2021, Wednesday, 4:00-5:30 pm Manila time.
Before the COVID-19 pandemic, there was growing momentum towards realizing universal health care or UHC among countries around the globe, including in the Philippines, which made a strong commitment to achieve UHC for all Filipinos. Several laws, most notably the UHC Act, were passed to implement major reforms in various aspects of the Philippine health system, including financing, healthcare organization, and workforce. However, the pandemic has derailed plans and even reversed progress of countries worldwide including the Philippines. The global crisis revealed the many defects of our existing health systems and made everyone realize that UHC should have been achieved yesterday. What is the future of UHC in the time of COVID-19 and beyond – is it still an achievable and affordable dream?
This series, which adopts an innovative conversation format, will convene health leaders from the Philippines to not only examine the current health situation but also envision the future of health in the post-coronavirus era.
For this webinar, which is held in commemoration of UHC Day, health leaders from various sectors will share their diagnosis as well as their prognosis of the state of universal health care in the country. Panelists include:
Dr. Manuel Dayrit, Former Secretary of Health
Dr. Maria Socorro Santos, OIC-Chief, Health Planning Division, Department of Health
Dr. Anthony Faraon, Vice President, Zuellig Family Foundation
Ms. Maria Fatima "Girlie" Garcia-Lorenzo, President, Philippine Alliance of Patient Organizations
Dr. Michael Caampued, President, Philippine Society of Public Health Physicians
Dr. Maria Carissa Alejandro, Chief Public Health Officer, AC Health
The conversation will be moderated by Dr. Renzo Guinto, Associate Professor of the Practice of Global Public Health and Inaugural Director of the Planetary and Global Health Program of the St. Luke's Medical Center College of Medicine-William H. Quasha Memorial.
The event is open to the public. Register at https://bit.ly/stlukesUHC.
The webinar series is co-presented by the following organizations: Department of Health; Rappler; Harvard Club of the Philippines; Zuellig Family Foundation; University of Asia and the Pacific School of Law and Governance; Development Academy of the Philippines Graduate School of Public and Development Management; Management Association of the Philippines; Philippine Futures Thinking Society; Philippine Society for Public Health Physicians; Philippine Alliance of Patient Organizations; Health Justice; Healthy Philippines Alliance; Center for Engaged Foresight; PH Lab; Likhaan Center for Women's Health Inc.; Asian Center for Drug Policy; Health Care Without Harm; Civika Asian Development Academy; Southeast Asia Climate and Health Alliance; and Asian Medical Students Association-Philippines.