St. Luke's to Explore "The Future of Health Professions Education"
| April 12, 2021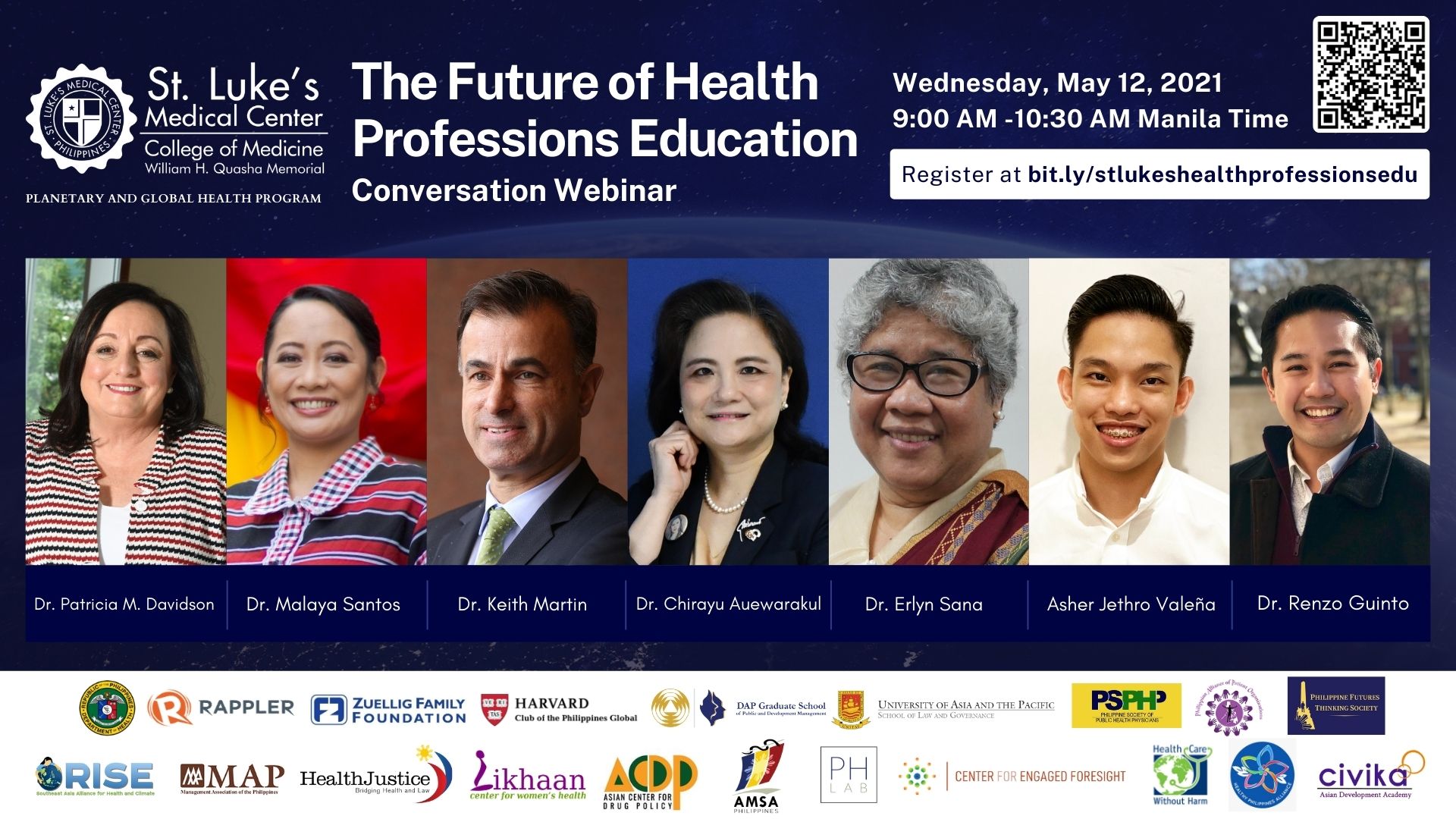 As part of its newly-launched "The Future of Health" conversation series, the St. Luke's Medical Center College of Medicine-William H. Quasha Memorial, through its new Planetary and Global Health Program, will be holding the fourth episode entitled "The Future of Planetary Health Professions Education" on May 12, 2021, 9:00-10:30 am Manila time.
Health professions schools – such as medical, nursing, dental, and public health schools – have the mandate to educate students to ultimately take their place in the health workforce as excellent, compassionate, and ethical professionals. Amidst the accelerated adoption of technology and the rapidly changing global landscape driven by the COVID-19 pandemic, institutions of higher learning must reaffirm their fundamental obligation to direct education, research, and service activities towards addressing the priority health needs of society. Understanding the role of the academe within the national and global health ecosystem is critical in designing and delivering 21st century health professions education that is relevant and fit-for-purpose.
This new series, which adopts an innovative conversation format, convenes health leaders from the Philippines and abroad to not only examine the current health situation but also envision the future of health in the post-coronavirus era, with the hope of advancing health policy discourse in the Philippines and globally through a futures-oriented discussion.
For this fourth webinar, education leaders will share their diagnosis as well as their prognosis of issues around health professions education in the country and across the world. Panelists include:
Patricia M. Davidson, Vice-Chancellor, University of Wollongong, Australia and Former Dean, School of Nursing, Johns Hopkins University;
Malaya Santos, Associate Dean and Head, Medical Education Unit, St. Luke's Medical Center College of Medicine-William H. Quasha Memorial;
Keith Martin, Executive Director, Consortium of Universities for Global Health;
Chirayu Auewarakul, Vice Principal, HRH Princess Chulabhorn College of Medical Science, Chulabhorn Royal Academy, Thailand;
Erlyn Sana, Former Dean, National Teacher Training Center for the Health Professions, University of the Philippines Manila, and;
Asher Jethro Valeña, National Officer for Medical Education, Asian Medical Students Association-Philippines.
The conversation will be moderated by Dr. Renzo Guinto, Associate Professor of the Practice of Global Public Health and Inaugural Director of the Planetary and Global Health Program of the St. Luke's Medical Center College of Medicine-William H. Quasha Memorial.
The event is open to the public. Register at bit.ly/stlukeshealthprofessionsedu.
The webinar series is co-presented by 20 different organizations: Department of Health; Rappler; Harvard Club of the Philippines; Zuellig Family Foundation; University of Asia & the Pacific School of Law and Governance; Development Academy of the Philippines Graduate School of Public and Development Management; Management Association of the Philippines; Philippine Futures Thinking Society; Philippine Society for Public Health Physicians; Philippine Alliance of Patient Organizations; Center for Engaged Foresight; Health Justice; PH Lab; Likhaan Center for Women's Health Inc.; Asian Center for Drug Policy; Health Care Without Harm; Civika Asian Development Academy; Southeast Asia Climate and Health Alliance; Healthy Philippines Alliance; and Asian Medical Students Association-Philippines.