St. Luke's to Tackle "The Future of Women, Gender, and Health"
| February 22, 2021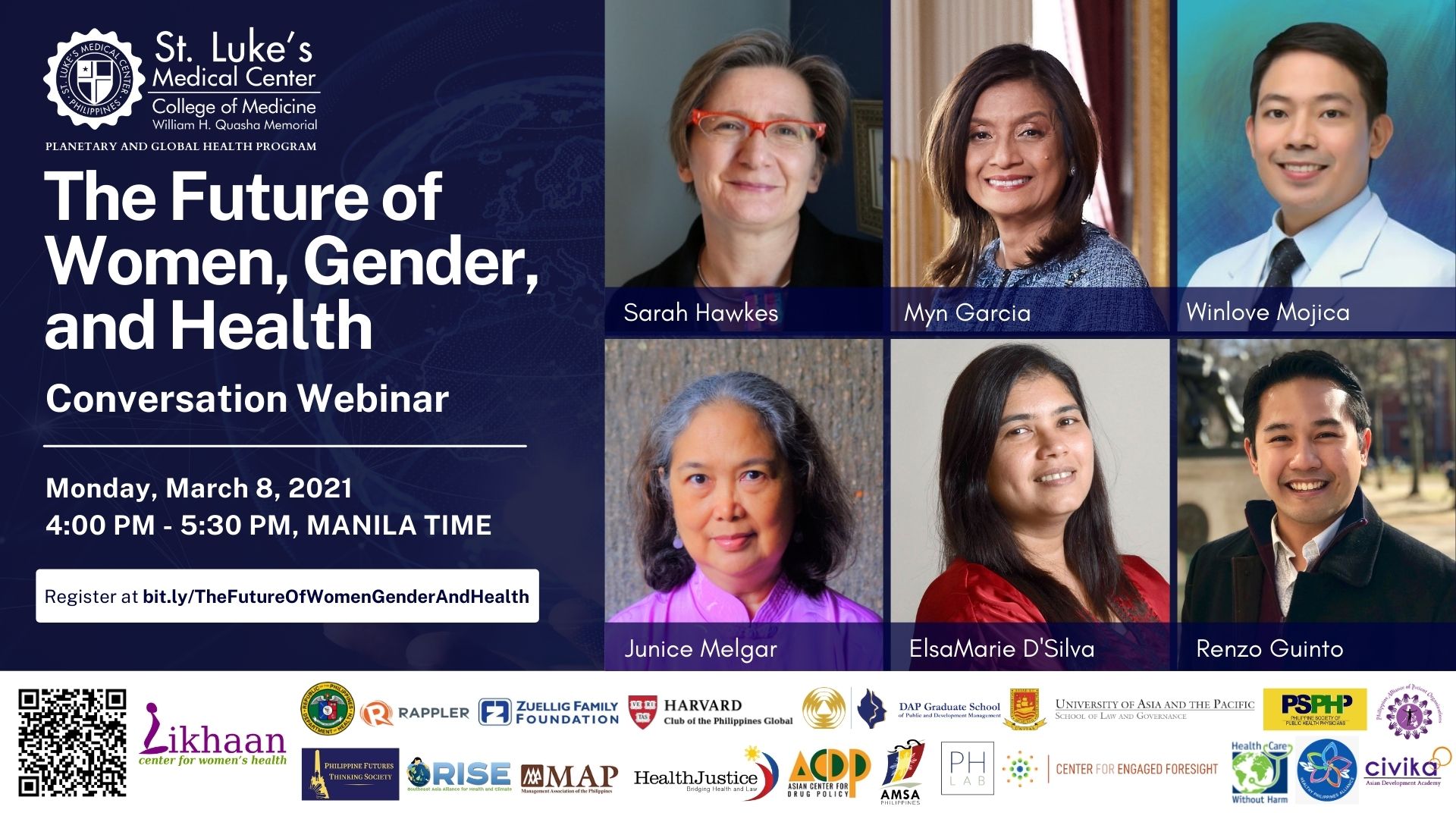 As part of its newly-launched "The Future of Health" conversation series, the St. Luke's Medical Center College of Medicine-William H. Quasha Memorial, through its new Planetary and Global Health Program, will be holding the second episode entitled "The Future of Women, Gender, and Health" on March 8, 2021, 4:00-5:30 pm Manila time.
The Likhaan Center for Women's Health, Inc., an non-governmental organization dedicated to promoting and pushing for the health and rights of marginalized women and their communities, is the main co-presenter for this special episode to be held in commemoration of Women's Month.
The COVID-19 pandemic exposed myriad fault lines in our global society – including longstanding gender imbalances that result in gross socioeconomic and health inequities. While biological differences due to sex present different risks of illness and death due to COVID-19, economic disruptions and healthcare access restrictions faced by women and the LGBT community are shown to worsen their existing pre-pandemic vulnerabilities. Meanwhile, the role of gender in health leadership also seem to contribute to the effectiveness of pandemic response at local, national, and international levels.
This new series, which adopts an innovative conversation format, convenes health leaders from the Philippines and abroad to not only examine the current health situation but also envision the future of health in the post-coronavirus era, with the hope of advancing health policy discourse in the Philippines and globally through a futures-oriented discussion.
For this second webinar, health leaders from various sectors will share their diagnosis as well as their prognosis of issues around women, gender, and health in the country and across the world. Panelists include:
Professor Sarah Hawkes, Professor of Global Public Health and Director of the Centre for Gender and Global Health, University College London and Co-Founder and Co-Director, Global Health 50/50;
Myn Garcia, Deputy Director General (2012-2019), Commonwealth Foundation, United Kingdom;
Winlove Mojica, Board Member, Philippine LGBT Chamber of Commerce;
Junice Melgar, Executive Director, Likhaan Center for Women's Health Inc., and;
ElsaMarie D'Silva, Founder & CEO, Red Dot Foundation, India.
The conversation will be moderated by Dr. Renzo Guinto, Associate Professor of the Practice of Global Public Health and Inaugural Director of the Planetary and Global Health Program of the St. Luke's Medical Center College of Medicine-William H. Quasha Memorial.
The event is open to the public. Register at LINK HERE.
The webinar series is co-presented by 20 different organizations: Department of Health; Rappler; Harvard Club of the Philippines; Zuellig Family Foundation; University of Asia & the Pacific School of Law and Governance; Development Academy of the Philippines Graduate School of Public and Development Management; Management Association of the Philippines; Philippine Futures Thinking Society; Philippine Society for Public Health Physicians; Philippine Alliance of Patient Organizations; Center for Engaged Foresight; Health Justice; PH Lab; Likhaan Center for Women's Health Inc.; Asian Center for Drug Policy; Health Care Without Harm; Civika Asian Development Academy; Southeast Asia Climate and Health Alliance; Healthy Philippines Alliance; and Asian Medical Students Association-Philippines.